THINKING ABOUT STARTING A BLOG...
BUT HAVE NO IDEA WHERE TO BEGIN?

FRUSTRATED WITH YOUR CURRENT BLOG'S LACK OF GROWTH...
AND READY TO RE-BRAND & LAND SPONSORED OPPORTUNITIES?
...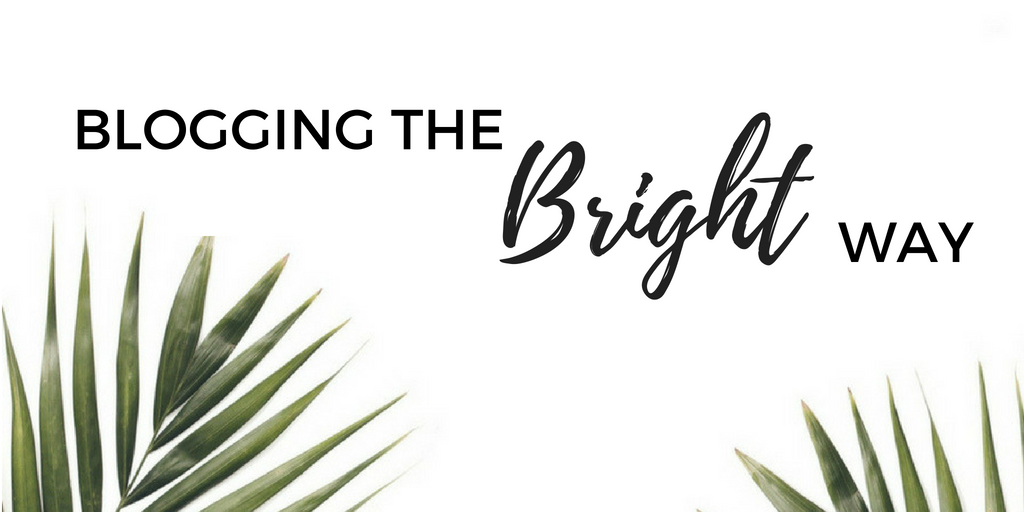 A BLOG E-COURSE UNLIKE ANY OTHER
...
Backed by 5 years of personal experience and proven success within the influencer industry, Blogging The Bright Way is designed to be the #1 step-by-step guide for both aspiring & current influencers to learn how to properly start & launch their own blog platform and begin to grow is as a business in the easiest, most efficient, and correct manner right from the beginning!
NO CONFUSION, NO NONSENSE, & NO TIME WASTED
...
---

---
How to create & set up domain name
How to set up a self-hosted Wordpress website & platform
How to migrate existing content to new self-hosted website
Wordpress dashboard tutorial
Logo & favicon development
How to set up blog business accounts on social media & Gmail
Understanding Google Analytics & business profile Insights
Popular post ideas that drive traffic
Best days & times to post on social media
Newsletter development
Affiliate marketing & monetization
Best ways to promote blog posts
Importance of joining influencer & Facebook groups
How to increase page views & grow an authentic engagement
Build a strong media kit
Determining what price to charge per sponsored post(s)

Influencer marketing & brand partnership platforms
How to pitch to brands & land sponsored opportunities
---

---
Unlike many blogging e-courses out there, this course is designed to TEACH you how to start and grow your blog as a business step-by-step. I will be with you every step of the way, assisting you when help is needed, and SHOWING how to set up & strategize your blog rather than offering vague written explanations.
When I started by blog in 2013, I had to teach myself everything on my own. So if there's anyone who UNDERSTANDS what you're going through, it's me. Setting up a blog & learning how to grow it to be successful can be the most frustrating thing in the world, especially if you don't know where to even begin!
That's why I want this e-course to be your golden ticket of a resource to help you launch your blog career! I created it because I wish I had something this helpful when I just started blogging.
I've learned a lot on my own in the last 5+ years & all the hard work and knowledge earned paid off in October 2017, when I was able to quit my 9-5 job to blog full time at the age of 26!
This e-course is reflective of what I've personally tried and applied on the journey to start & grow my blog into the successful business it is today, compiling 5+ years of research, along with tips & tricks of the trade, into a 14-day program just for you!
...
This course bundle includes business & growth strategies outlined in both Bright Start to Business & All The Bright Moves courses.

---

---



---

...
Think about HOW MUCH you're getting in this e-course - I'm talking 5+ years of tried & true research and strategies I personally use AND have found continuous success with!
And guess what…I'm blogging full-time today because I've invested in my passion! I never imagined I would be THIS HAPPY with my career and frankly, never dreamed I would be my own boss & the CEO of my OWN BUSINESS at the age of 26!
What you're investing in today is an e-course that will TEACH & SHOW you how to monetize your blog as a business, allowing you to make back every dime you're putting down + MORE & MORE! I'm talking $$ that might launch you into a new career path - $$ that might allow you to quit your job & go into business ON YOUR OWN!
---
...
I'm putting 5+ years of information into a 14 DAY PROGRAM! You won't be wasting time trying to figure out what works & what doesn't. This e-course shortens the process by including only WHAT WORKS, through a step-by-step guide that will launch you into the right direction when beginning your blogging journey & growing it as a profitable business!
By building your pitch strategy, developing a strong portfolio, and growing a dedicated following, earning back the money you've spent on this e-course will be the EASIEST thing you'll find achievable.